Quack
, 2018
John Baldessari
Chouinard '59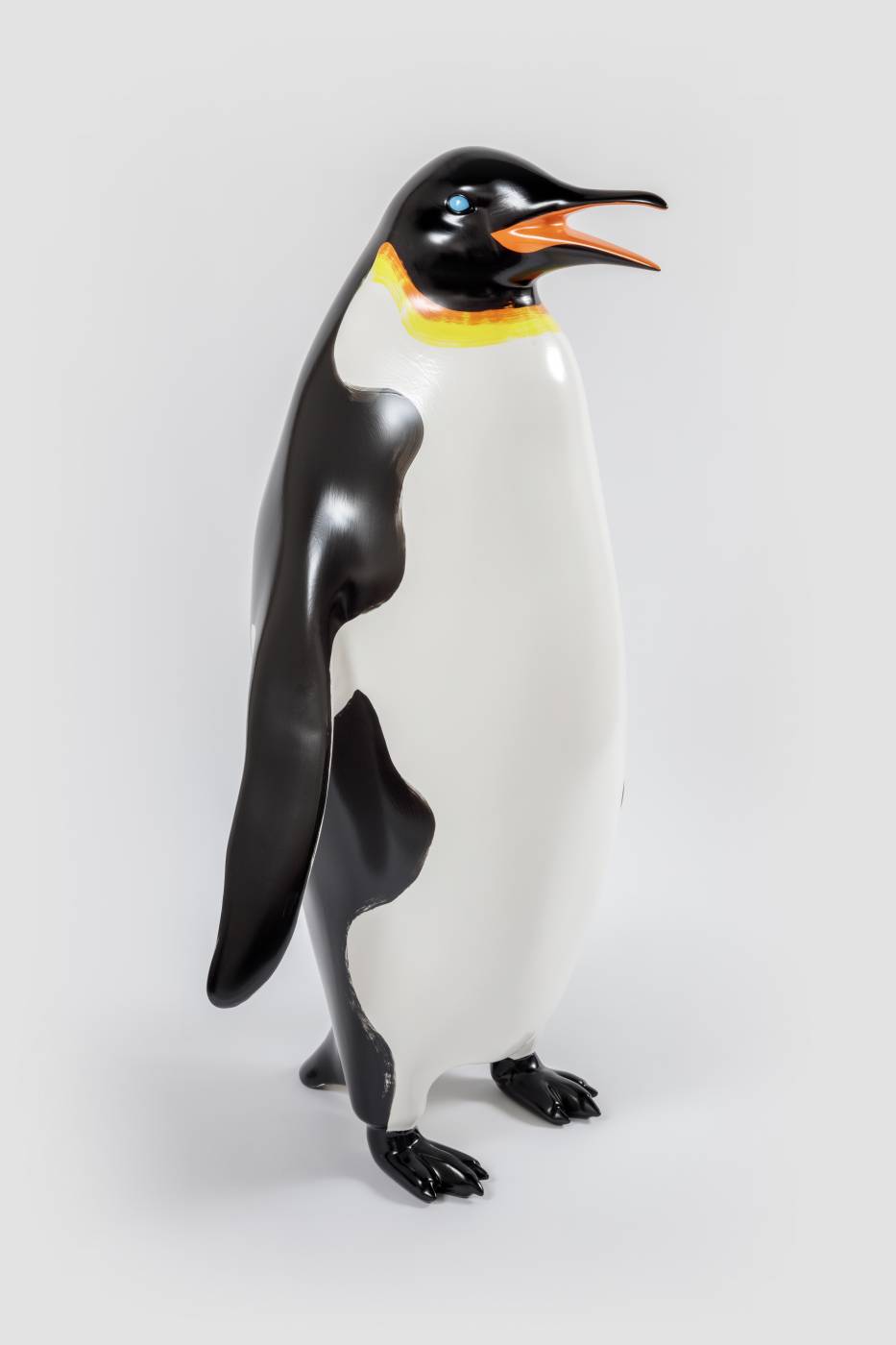 Edition 1/10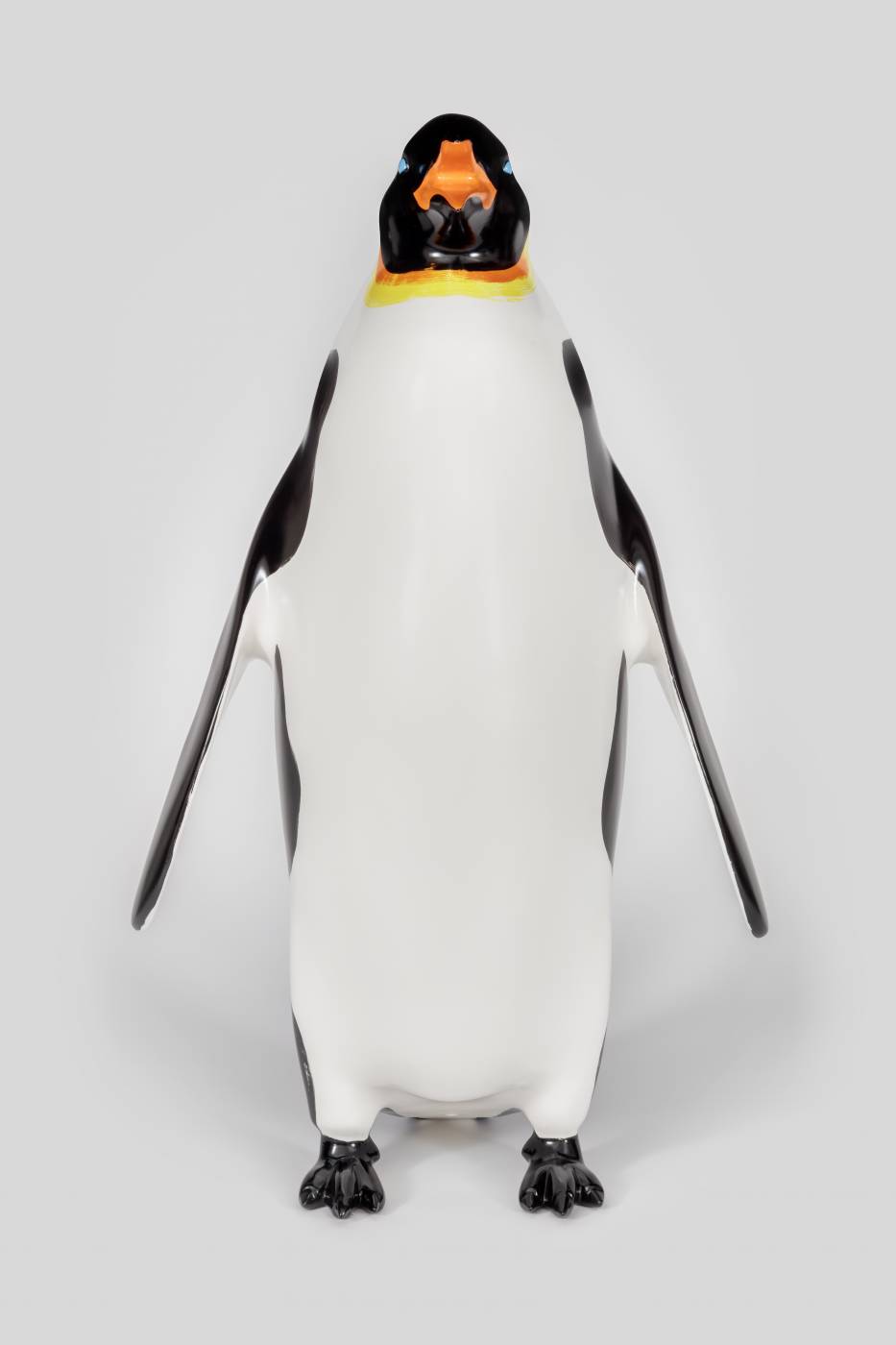 Edition 1/10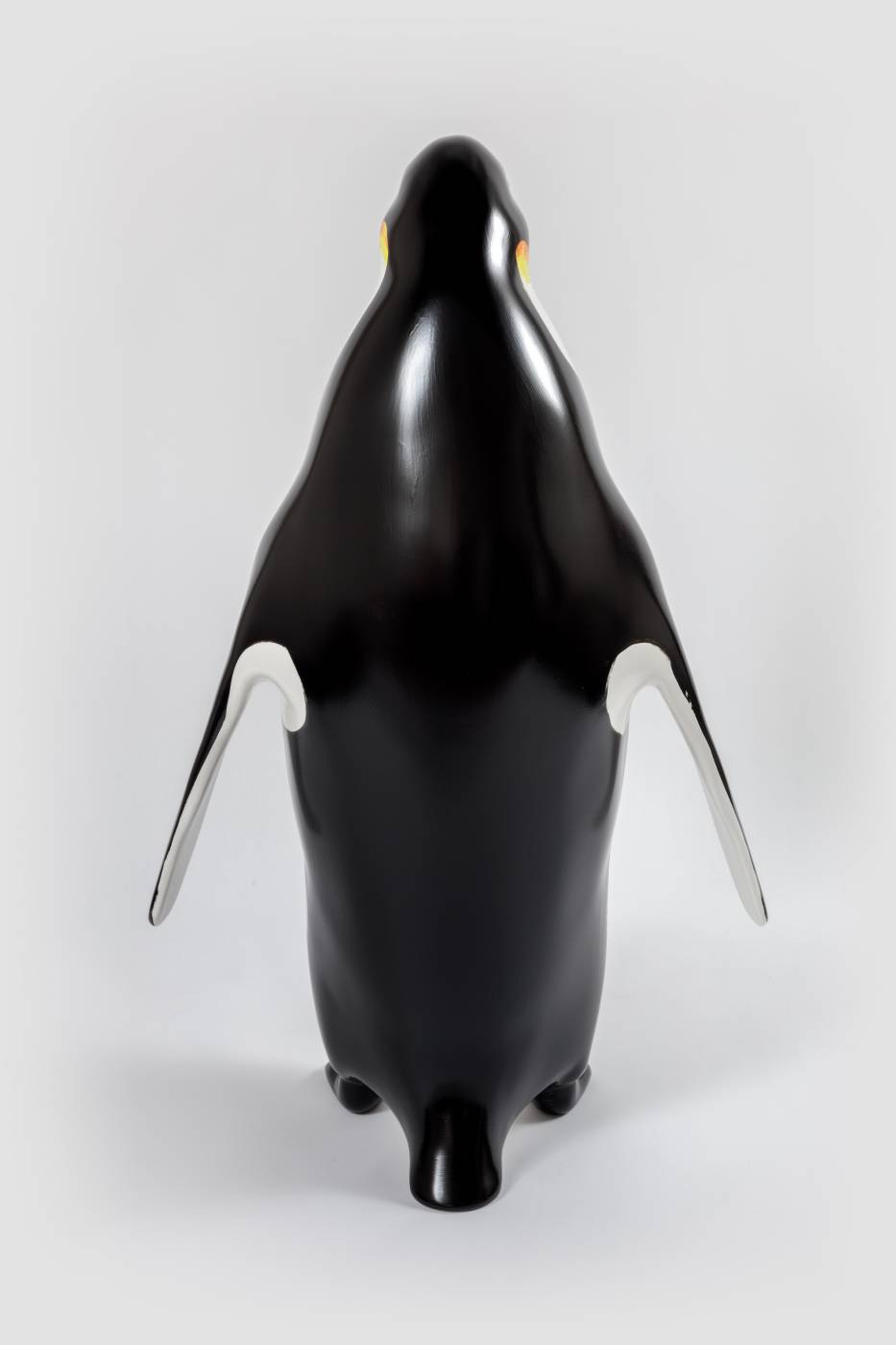 Edition 1/10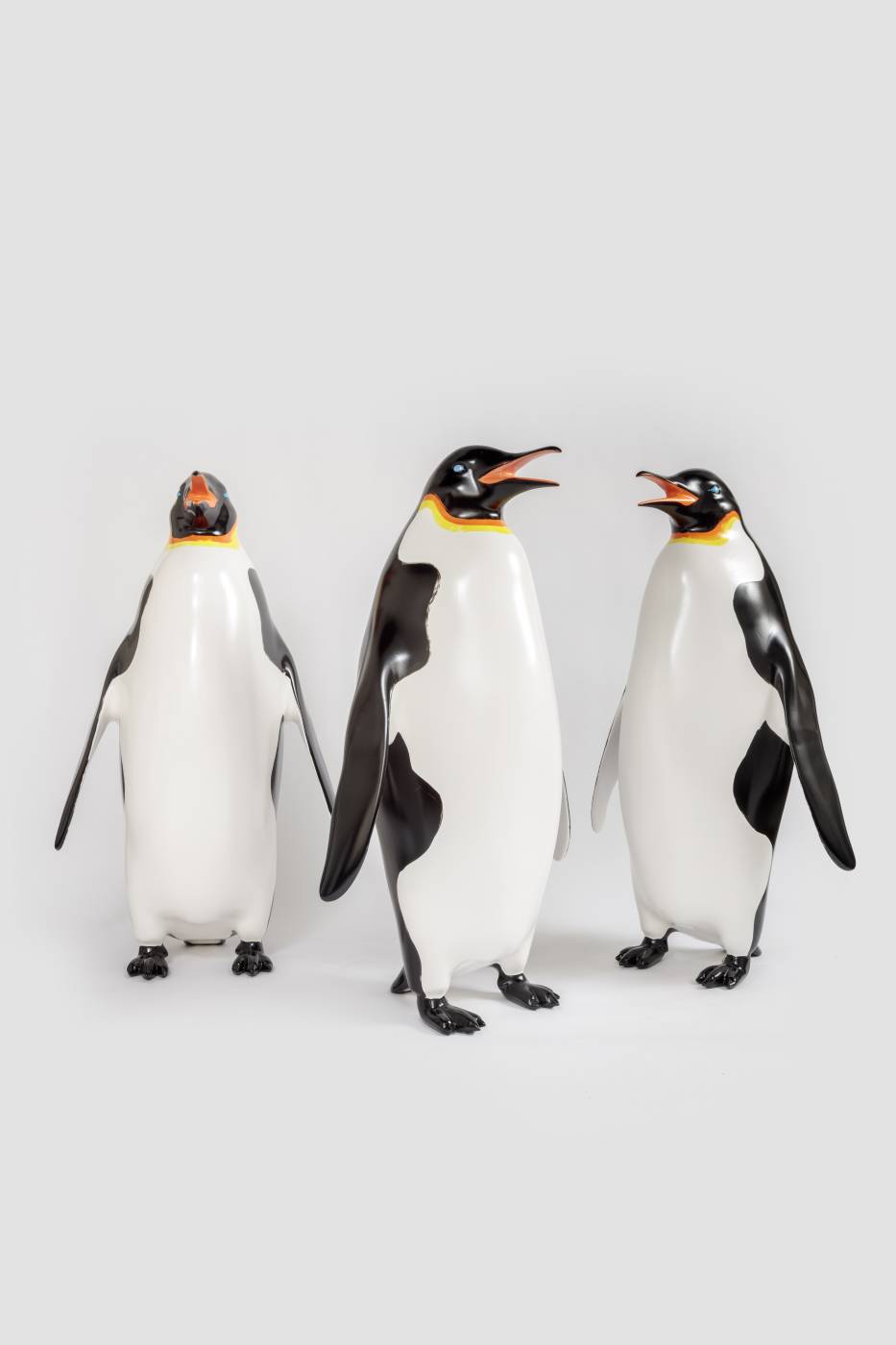 Three editions of Quack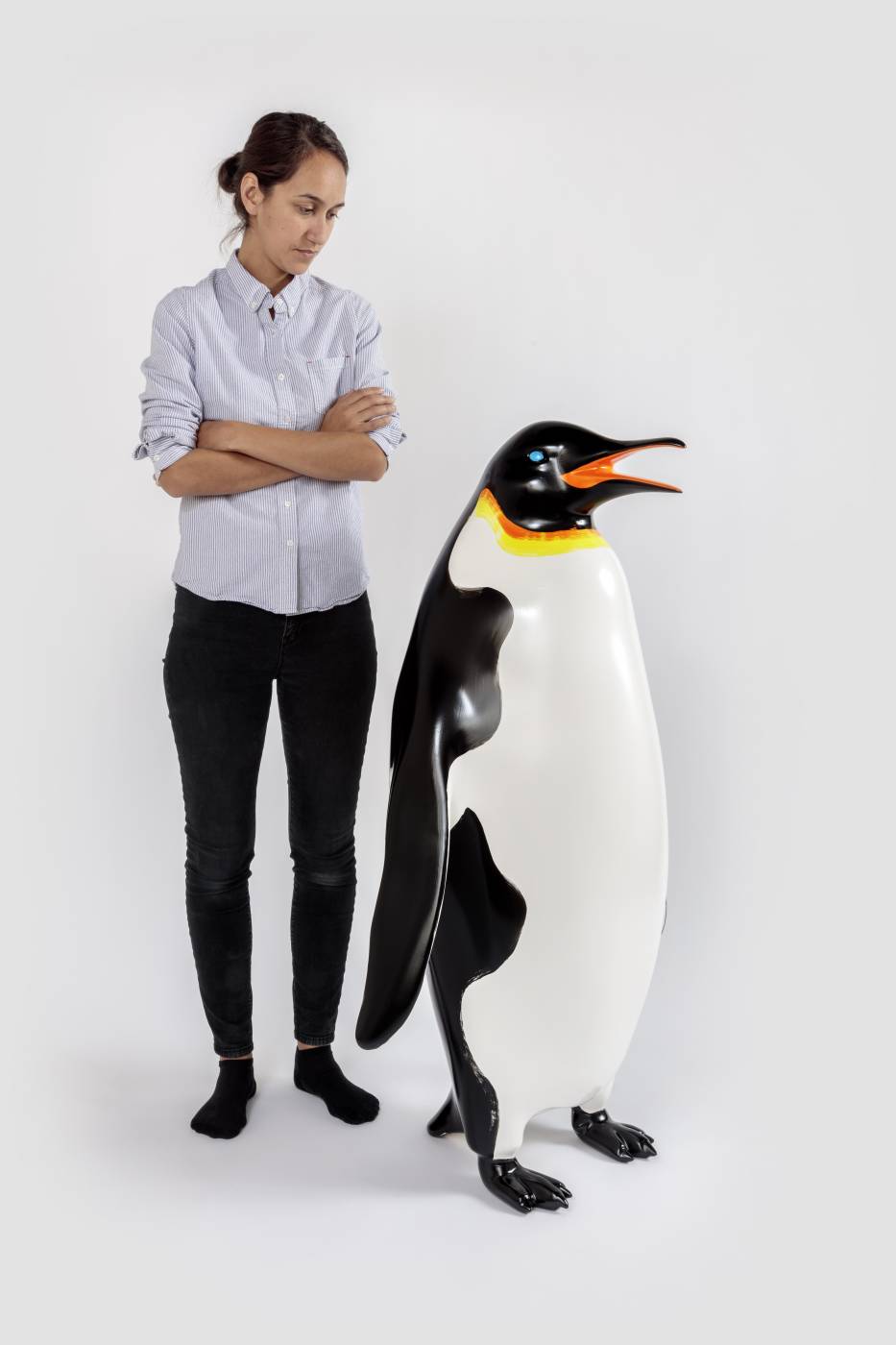 Edition 1/10
In celebration of CalArts' 50th anniversary, artist John Baldessari (Chouinard 1959) has created Quack, 2018, an extraordinarily special artwork by one of our most revered Chouinard graduates, and beloved CalArts teachers, who is widely regarded as one of the most influential artists of the past five decades. Standing at roughly four feet tall (true to the size of the largest of all penguins), Quack, 2018, has been created in an editioned series of 14 sculptures, each from composite and UV resistant resin, and uniquely hand painted.
Rife with humor (exhibiting the artist's interest in the pairing of incongruent words and images through the delightful title, Quack), Baldessari's sculpture for CalArts also draws pathos within the context of global warming. When asked why he started working with penguins, Baldessari explained he chose these aquatic flightless birds as his subjects because "they are far from my everyday experience". A bibliophile and lover of literature, it is probably no coincidence that after reading South! By Ernest Shakleton, Baldessari was drawn to the penguins of Antarctica, specifically the Emperor penguin.
About John Baldessari
John Baldessari was born in National City, California in 1931. He attended San Diego State University and did post-graduate work at Otis Art Institute, Chouinard Art Institute and the University of California at Berkeley. He taught at California Institute of the Arts in Valencia, CA from 1970–1988 and the University of California at Los Angeles from 1996–2007.
Baldessari's artwork has been featured in more than 200 solo exhibitions and in over 1000 group exhibitions in the U.S. and Europe. His projects include artist books, videos, films, billboards and public works. His awards and honors include the 2014 National Medal of Arts Award, an award from the International Print Center New York in 2016, memberships in the American Academy of Arts and Letters and in the American Academy of Arts and Sciences, the Americans for the Arts Lifetime Achievement Award, the Rolex Mentor and Protégé Arts Initiative, the BACA International 2008, the Golden Lion for Lifetime Achievement, awarded by La Biennale di Venezia and the City of Goslar Kaiserring in 2012. He has received honorary degrees from the National University of Ireland, San Diego State University, Otis Art Institute of Parsons School of Design, and California College of the Arts.
The art world and CalArts mourn the passing of acclaimed conceptual artist John Baldessari on January 2, 2020 at age 88.
For sales and availability, please contact Heather Suran at CalArts, 661-291-3435 or hsuran@calarts.edu