Untitled
, 2018/19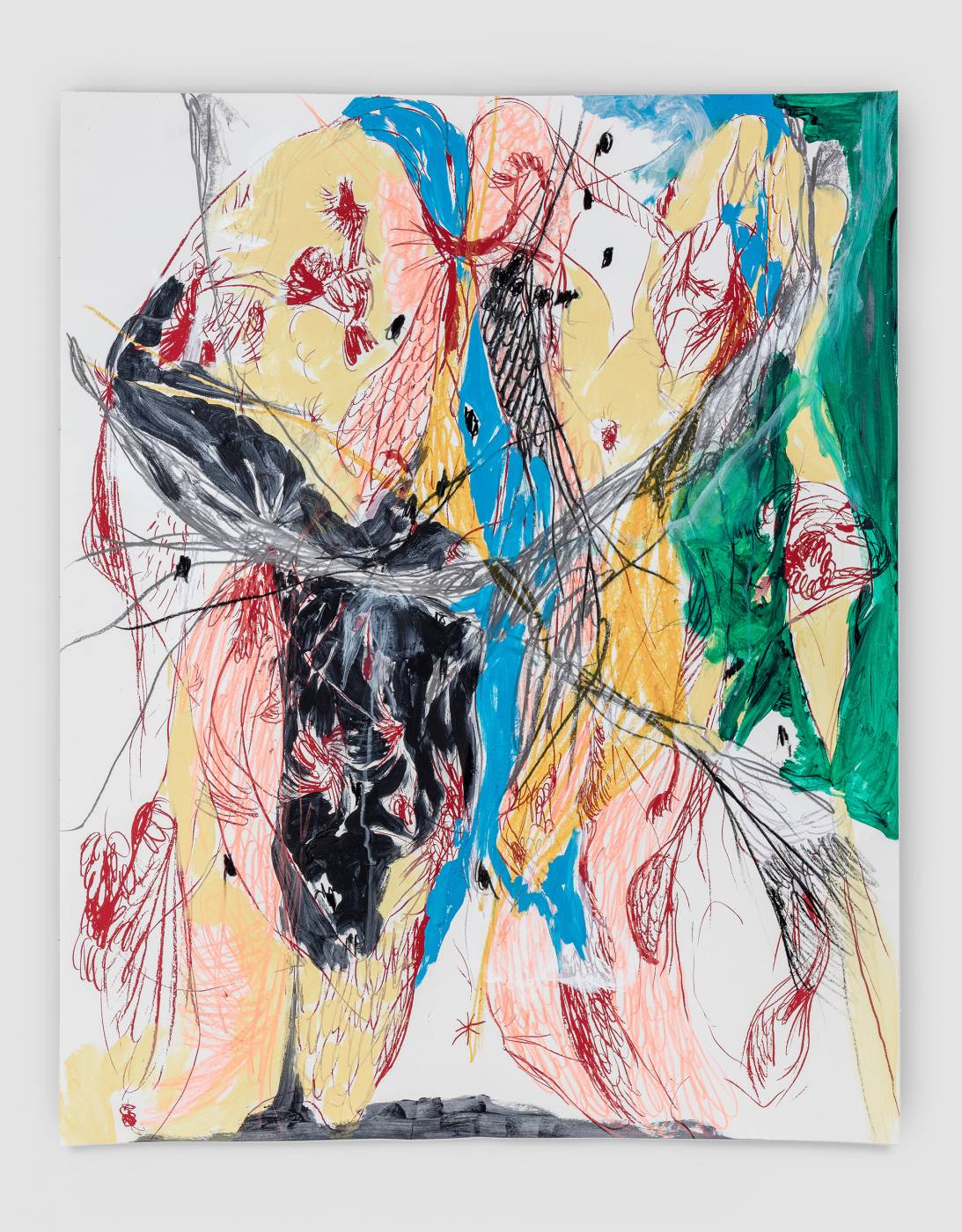 Edition 5/15 (available with full set of edition 5)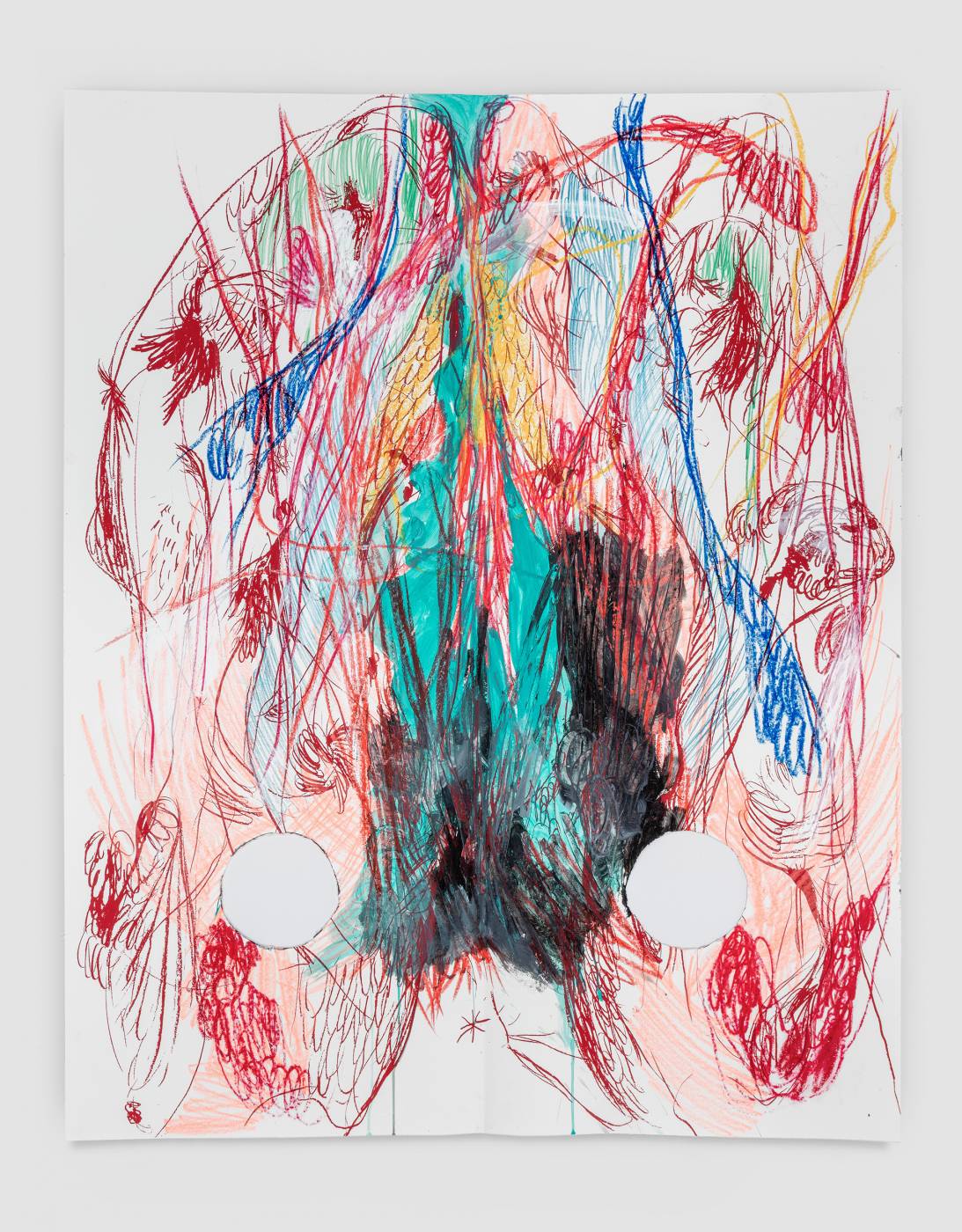 Edition 6/15 (available with full set of edition 6)
For CalArts's 50th Anniversary, artist Naotaka Hiro (CalArts MFA 2000) has created a mesmerizingly beautiful series of 15 monoprints by hand-applying paint, crayon, and graphic pencil to a set of 15 silk­screened prints. The original drawing which forms the silkscreen base of each monoprint was made by the artist on a clear mylar sheet, scaled 35 × 44 inches, mirroring the artist's torso.
In the words of the artist, "My drawings reflect my body parts, shapes, and movement. I also work with chance and error as I draw. The foundation of my work, in general, stems from the idea of the unknown—the world of my body parts, which I am unable to see and thus unable to confirm. The dilemma of the unknowabil­ity of my body serves as a creative point of departure—a place (unknown, blindness, awe) from which my imagination may create. It usually starts with the body parts, to which I am essentially blind: the subject, an unknown world. The depressing yet unavoidable fact is that my body is only understandable to myself when considered through a mediated form, such as a camera or a mirror. My works, thus, are connected through an image resulting from my encounter and engagement with the unknown.
"I work on various sizes of paper. I draw on smaller papers in a closed space, most of the time on the studio desk, and often while I travel, I am in a hotel room, in a hotel bathroom, or on a bed. The larger drawings are then pinned on my studio wall, on a drawing board or laid flat on the floor. The 32 × 42-inch scale drawings, for example, I consider [to be] an advanced stage of the smaller drawings. While small drawings are direct outputs of 'raw' image, [the] larger ones…retain an aspect of 'rawness.' For example, I physically lean against or lie on the paper. The drawing shows a remnant of a scan of myself and the process. Consequently, these 32 × 42-inch drawings often deal with half of my body (upper/lower parts), whereas larger 48 × 72-inch drawings deal with my entire body."
About Naotaka Hiro
Born in Osaka, Japan in 1972, Naotaka Hiro lives and works in Los Angeles. He received his MFA from CalArts in 2000. Recent exhibitions include Big Question (2016) and Pit and Log (2013) at Brennan & Griffin in New York; A Modest Proposal at Hauser & Wirth, New York; Mirror Effect (2015) and Men in LA: Three Generations of Drawings: Naotaka Hiro, Paul McCarthy, and Benjamin Weissman (2014) at The Box, Los Angeles; solo exhibitions at Misako & Rosen in Tokyo (2015, 2008, 2007); and RSVP Los Angeles: The Project Series at Pomona, Pomona College Museum of Art, Claremont, CA (2015).
For sales and availability, please contact Heather Suran at CalArts, 661-291-3435 or hsuran@calarts.edu