Aura (John Baldessari 2003)
, 2018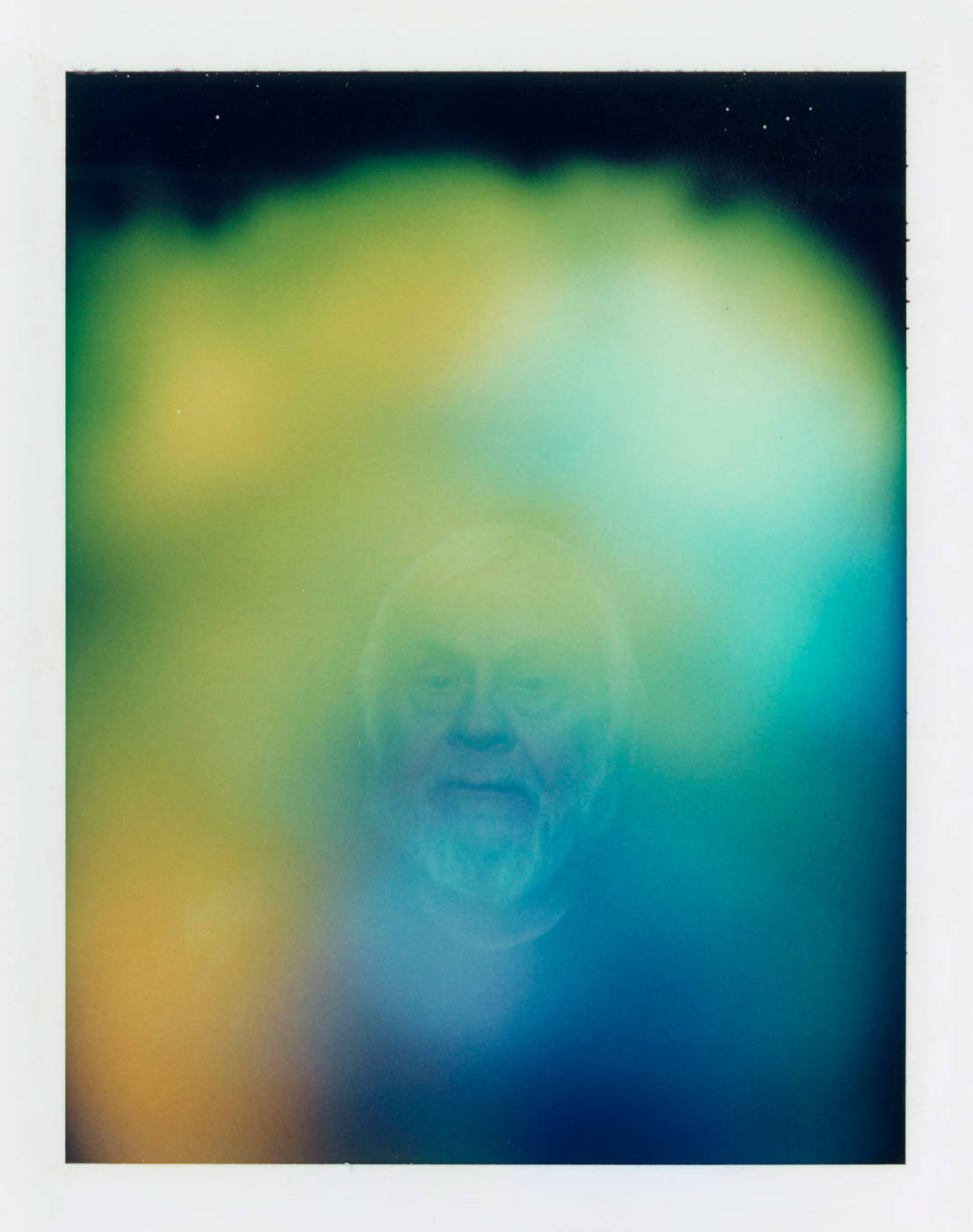 Anne Collier's (CalArts BFA 1993) Aura Polaroids are the result of an ongoing project conducted from 2002–04 in Oakland, CA., and feature friends, men­tors, and colleagues who visited the Bay Area during that time. For this group of photographs, the artist adopted a psychic's shop as her studio, using its Polaroid camera, which had been configured for Aura photography. After photographing each individual, Collier gave her subjects a copy of the Polaroid, keeping the remaining images for her archive. Each original photograph is unique.
Created for CalArts's 50th anniversary, Collier's edition of Aura (John Baldessari 2003), 2018, rep­resents the first time that Collier has made an edition or print from her Aura artwork series. Aura series has been shown in group exhibitions at several public institutions, including most recently at Aspen Museum of Art's group show, Ritual in 2018. Works from this series were exhibited at SFMOMA in 2016; University Galleries of Illinois State University in 2013, and The Frances Lehman Loeb Art Center, Vassar College in 2013.
Art critic Brian Dillon wrote of Collier's Aura photographs in 2006, that her "light touch with the everyday significance of photographs carries over into the series of Aura Photographs (2002–04)—made with an adapted Polaroid camera, meant to capture the etheric emanation of the sitter's personality—that Collier has made of artist friends: like much of her work, they are moving, knowing and absurd."
Shot over the course of two years, the exact number of Aura Polaroids is indeterminate. Usually several Polaroids were shot of each subject; Collier kept one, and the subject received one. Rather than focus on recording each image, the artist focused on this series as an interaction with her subjects.
About Anne Collier
Anne Collier was born in Los Angeles in 1970. She received her BFA from CalArts in 1993 and her MFA from UCLA in 2001. Recent solo exhibitions include Galerie Neu, Berlin, Germany and Gladstone, Brussels, Belgium (both 2019). In 2018, Collier's work was the subject of a survey exhibition organized by the Sprengel Museum, Hannover, Germany, which subsequently traveled to Fotomuseum Winterthur, Switzerland in 2019.
Other individual museum exhibi­tions include: FRAC Normandie, Rouen, France (2018) and a major traveling North American survey exhibition organized by the Museum of Contemporary Art, Chicago (2014), which traveled to the Hessel Museum of Art, Bard College, New York (2014); the Aspen Art Museum, Colorado (2015); and the Art Gallery of Ontario, Toronto, Canada (2016). Collier's work is included in the permanent collections of the Museum of Modern Art, the Whitney Museum of American Art, and the Solomon R. Guggenheim Museum (all New York); the Los Angeles County Museum of Art, the Museum of Contemporary Art, and the Hammer Museum (all Los Angeles); Centre Pompidou, Paris; Tate, London; the Art Gallery of Ontario, Toronto; the Art Institute of Chicago; the San Francisco Museum of Modern Art; and the Walker Art Center, Minneapolis, among others. Collier is currently represented by Anton Kern Gallery, New York; Galerie Neu, Berlin; and The Modern Institute, Glasgow. In 2018, she joined the board of the Foundation for Contemporary Arts, New York.
She currently lives and works in New York.
For sales and availability, please contact Heather Suran at CalArts, 661-291-3435 or hsuran@calarts.edu