English for Foreigners Redux
, 2018
Stephen Prina
CalArts '80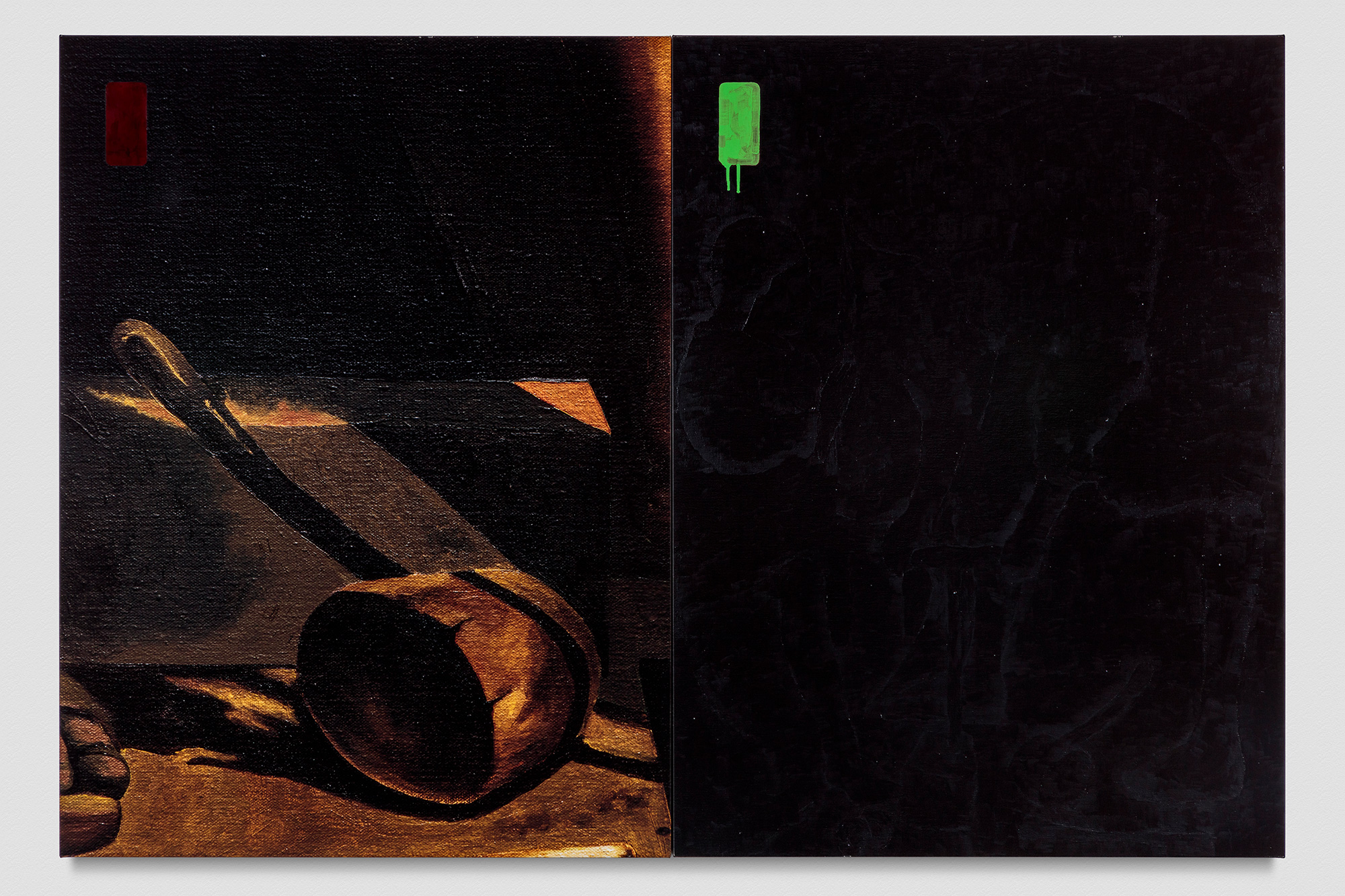 Edition 4/10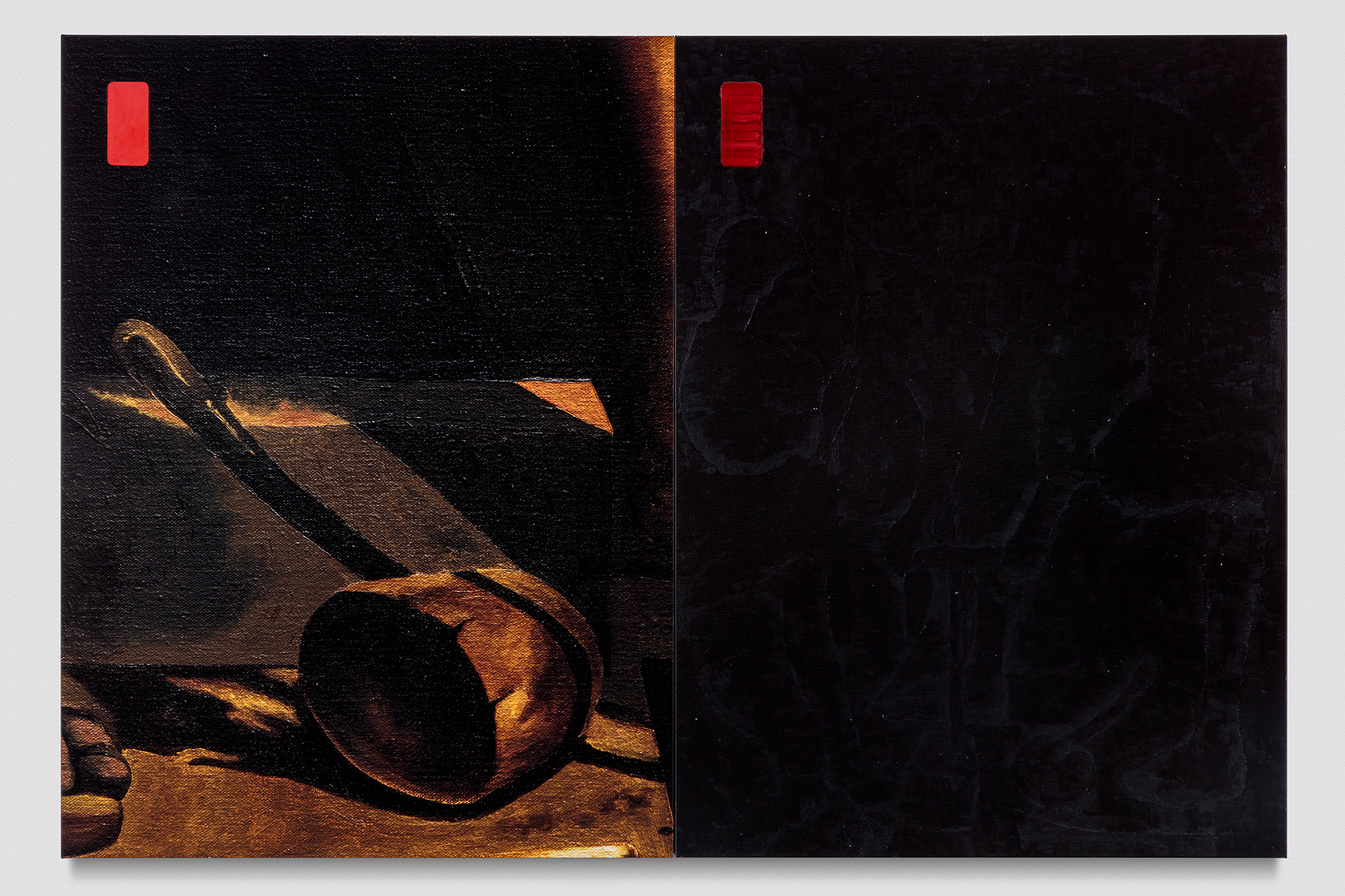 Edition 5/10 (available with full set of edition 5)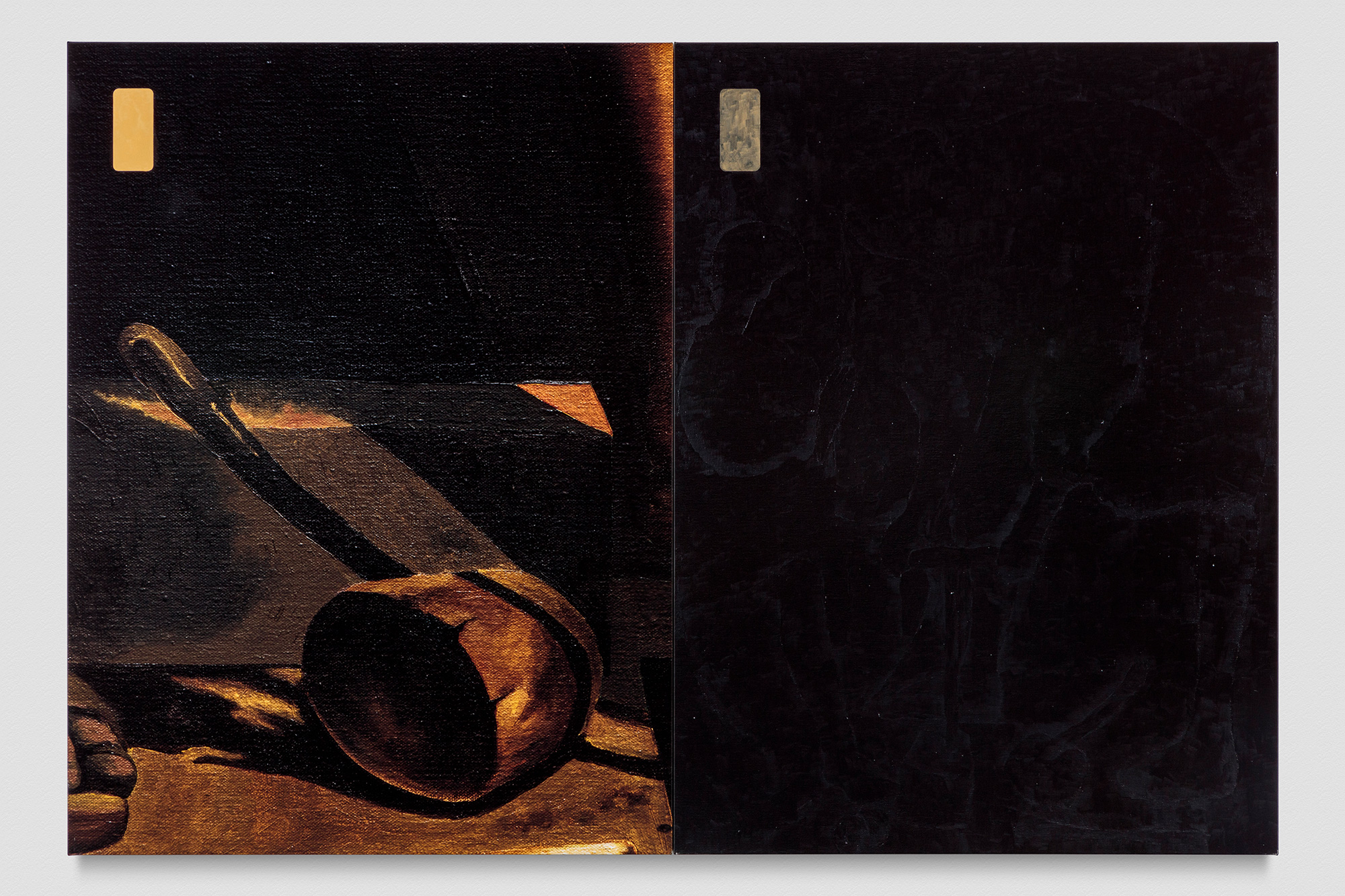 Edition 6/10 (available with full set of edition 6)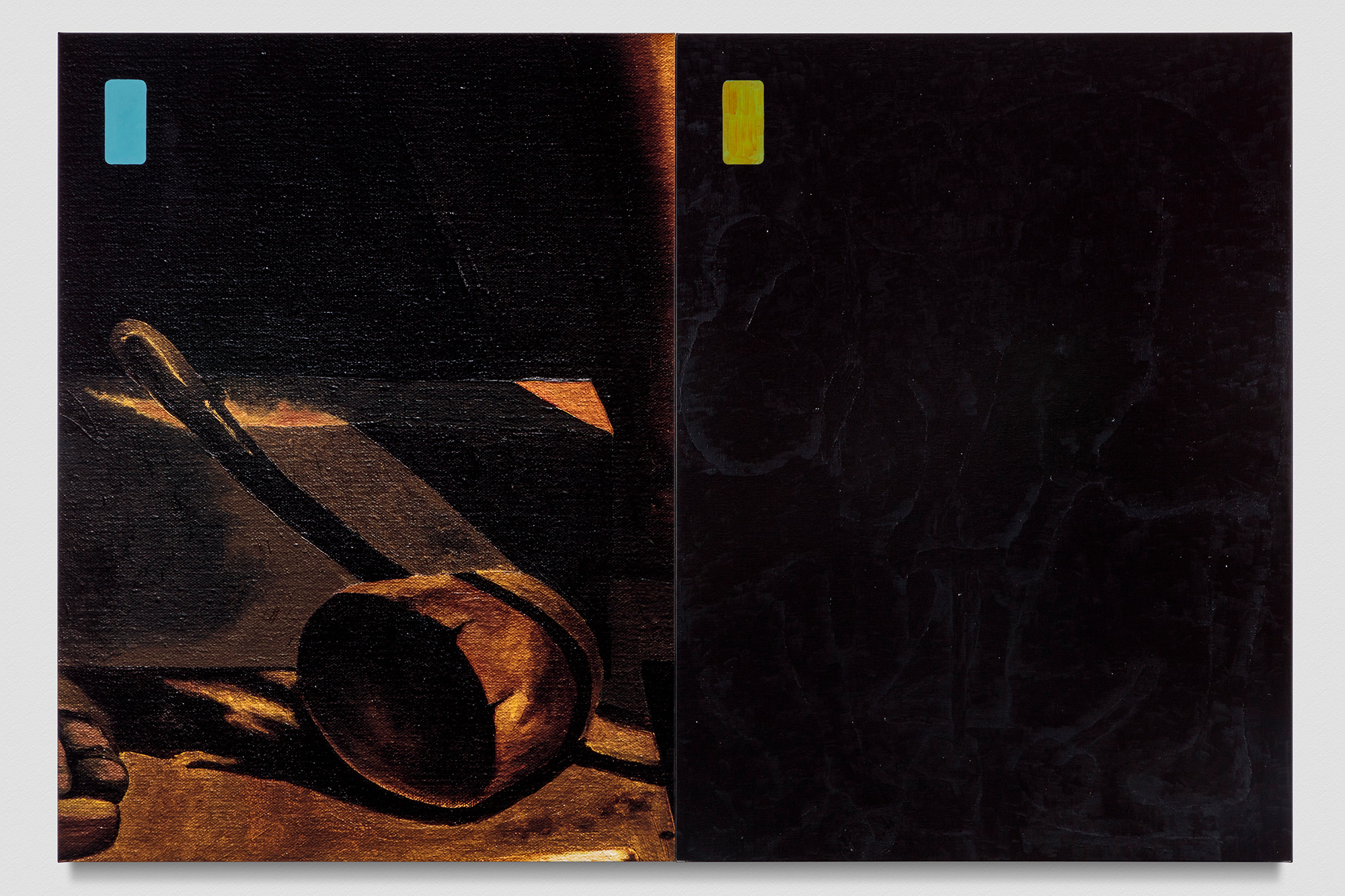 Edition 7/10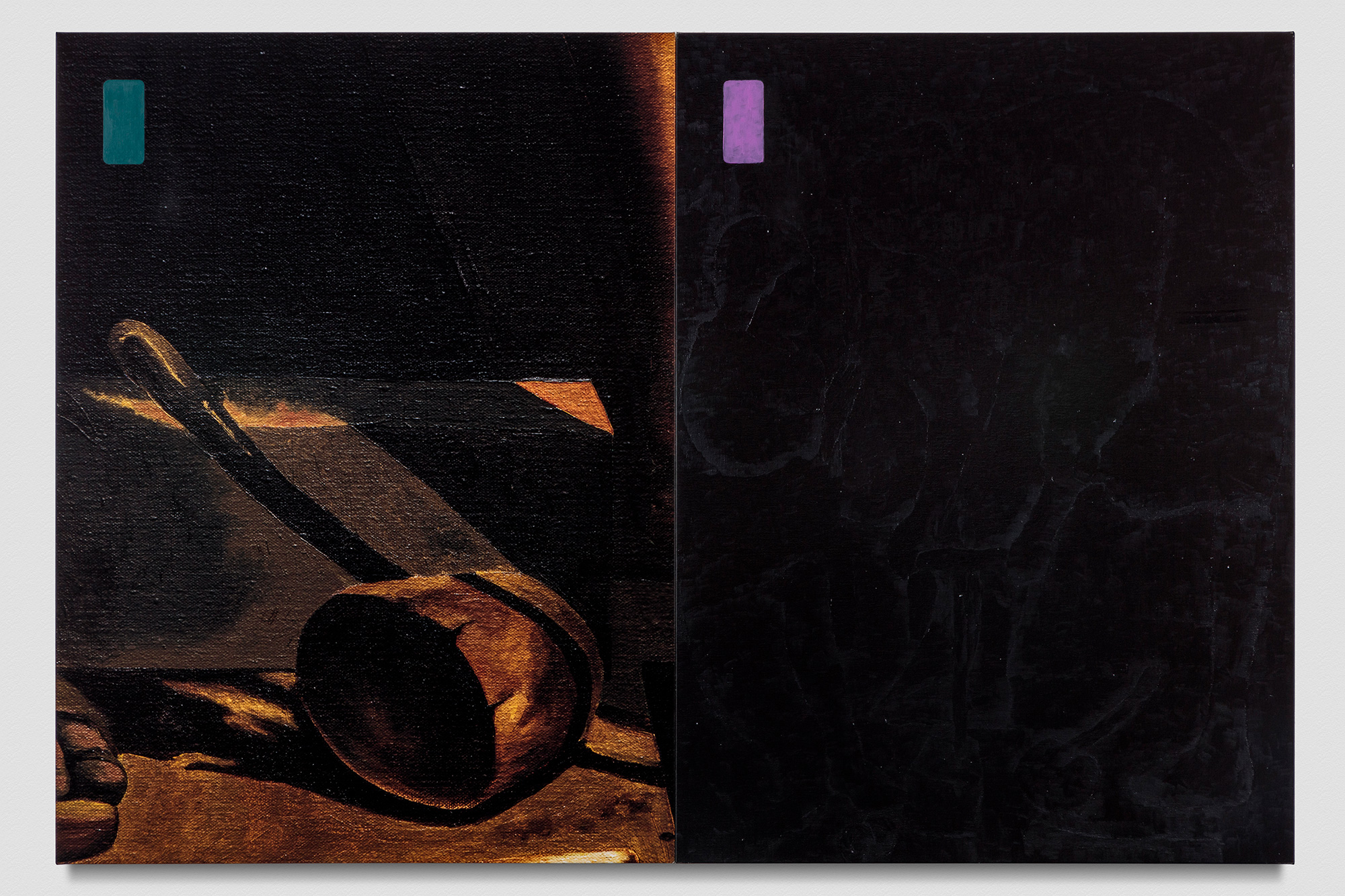 Edition 8/10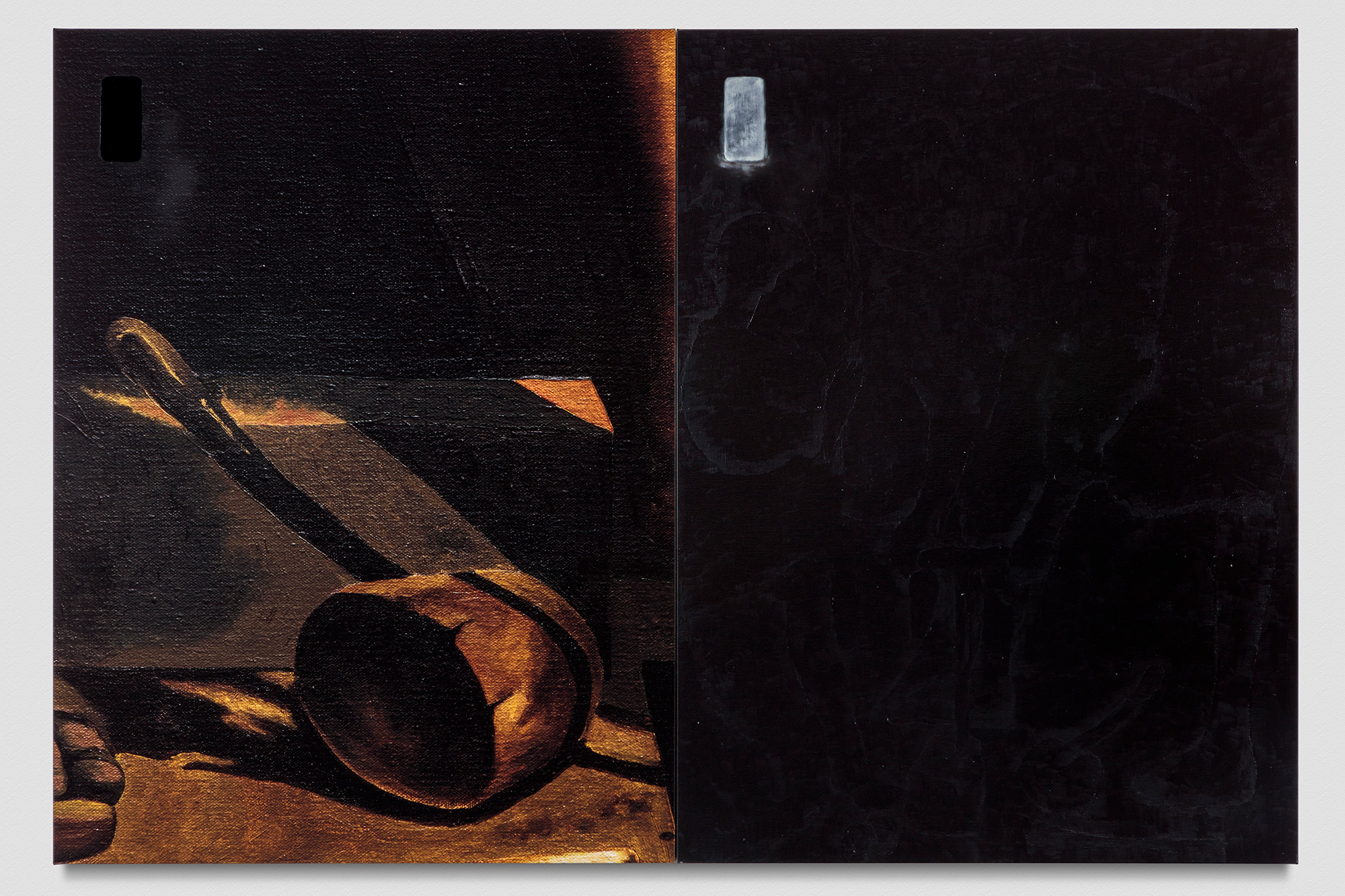 Edition 9/10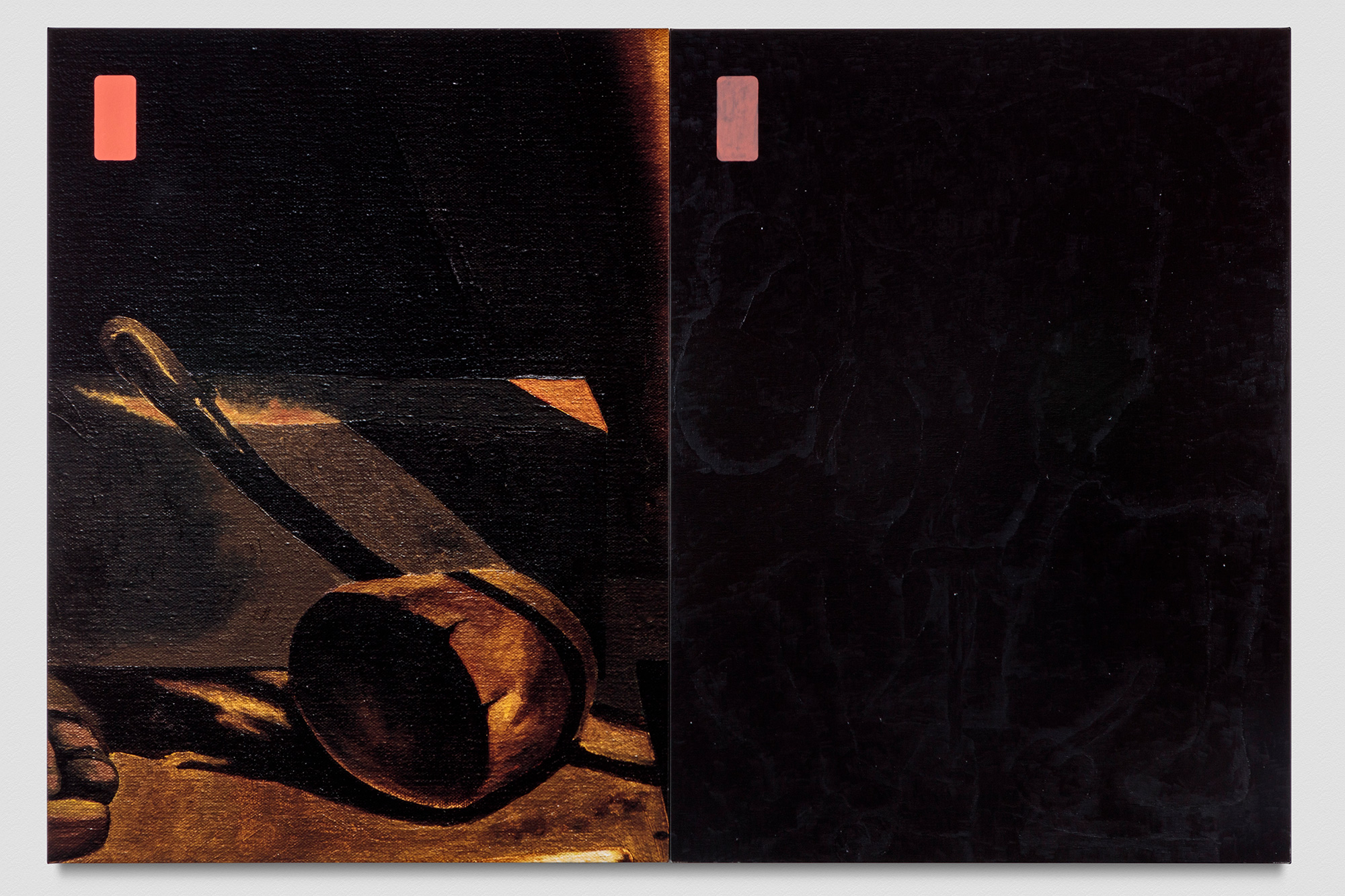 Edition 10/10 (available with full set of edition 10)
For the 50th Anniversary of CalArts, Stephen Prina (CalArts MFA 1980) has created English for Foreigners Redux, digital prints mounted to canvas to create an edition of 10 diptychs, each one with unique hand-applied oil paint, in a range of different colors. The right panel is a digital print of a painting Prina made in 2017 titled, English for Foreigners—a reproduc­tion of Georges de La Tour's Saint Joseph the Carpenter, ca. 1642, made to scale, and in burnt umber mono­chrome, in the manner of a Warhol portrait. The left panel is a close-up of the mallet that lies at the feet of the saint. Tucked into the upper-left-hand corner of each of the two panels is a one-to-one outline of an iPhone 7. Prina has individually hand-painted oil monochromes on each panel, in a range of glazed, colored fields, the iPhone shape branding both panels with a one–to–one scale that we intuit because of its designed relation to the hand. The relay race therefore begins with de La Tour's original St. Joseph the Carpenter, and proceeds to Prina's first copy of it (made when he was a boy of 13) to English for Foreigners, 2017, to its most recent iteration, the scanned and digitally printed version, which serves as a structural model for Prina's CalArts edition, English for Foreigners Redux. Details are rendered digitally, recombined, and then differentiated with the hand-painted section within the confines of a handheld object of communication.
About Stephen Prina
Stephen Prina was born in 1954 in Galesburg, Illinois. He lives and works in Los Angeles, California and Cambridge, Massachusetts, where he is a Professor in the Department of Art, Film, and Visual Studies at Harvard University. He studied first at Carl Sandburg College, Galesburg, (AA 1974), followed by Northern Illinois University, DeKalb, (BFA 1977), and California Institute of the Arts, Valencia, (MFA 1980).
Prina's work has moved nimbly between painting, sculpture, photography, installation, and conceptual practices since the late 1970s. Solo exhibitions include those at Museo Madre, Naples, Italy (2017); Museum Kurhaus Kleve, Germany (2016); Kunst Halle Sankt Gallen, Switzerland (2015); Los Angeles County Museum of Art (2013); Vienna Secession, Austria; Kölnischer Kunstverein, Cologne, Germany (2011); Contemporary Art Museum St. Louis (2010); Bergen Kunsthall, Norway; Centro Andaluz de Arte Contemporáneo, Seville, Spain (2009); Staatliche Kunsthalle Baden-Baden, Germany (2008); Carpenter Center for the Visual Arts, Harvard University, Cambridge, Massachusetts; Cubitt, London (2004); Art Institute of Chicago (2001); Frankfurter Kunstverein, Frankfurt am Main, Germany (2000); Musée d'Art Moderne et Contemporain, Geneva, Switzerland (1998); Museum Boijmans Van Beuningen, Rotterdam, the Netherlands (1992); The Power Plant, Toronto, Ontario (1991); P.S.1 Contemporary Art Center, New York (1990); The Renaissance Society, Chicago; and Los Angeles Municipal Art Gallery (1989). Among the many international group exhibitions that have featured his work are the Whitney Biennial (2008), the Yokohama Triennale (2008), Documenta IX (1992), the Carnegie International (1991), and the Venice Biennale (1990).
For sales and availability, please contact Heather Suran at CalArts, 661-291-3435 or hsuran@calarts.edu